So, since it rained, I was unable to grill my steak and kabobs, so instead, I did the steak in the oven Saturday and it came out really good, but I had to watch it and time the cooking for both sides exactly. In the meanwhile, my meats for my kabobs had been marinated for at least a day; my chicken had begun marinated late Friday evening, and my shrimp had begun marinated Saturday afternoon. So by Sunday, they were ready to go!
Chicken Kabobs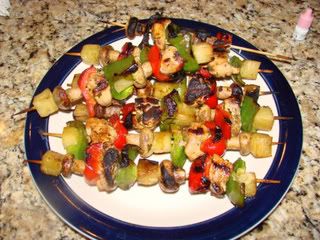 This recipe was really easy and even though on the pic, they look slightly burned, that's the grilled look, lol, and they didn't taste burned. My grill was hotter on some sections than others. So, the marinade recipe, I think would be good just by itself on boneless skinless chicken breasts and maybe grilled on the stove. Below is the recipe for the marinade:
2 tbsp. oil2 tbsp. soy sauce2 tbsp. lemon juice2 tbsp. fresh parsley, snipped1/2 tsp. saltPepper to taste
4 tablespoons toasted sesame oil
4 tablespoons soy sauce
4 tablespoons of lemon juice (about two whole lemon)
4 tablespoons of fresh, snipped parsley
1 teaspoon of salt
Pepper to taste
This was the recipe I got off cooks.com, with some modification, but since I needed to marinade four boneless, skinless chicken breasts and mushrooms, I doubled the recipe, so the one above is exactly what I used. I felt comfortable knowing that my ingredients were "swimming" in the marinade, as oppposed to just laying on top of it.
I used fresh button mushrooms from the grocery store, and boiled them for 2 minutes, and placed them and the cut up chicken in the bowl with the combined mixture above for overnight marinading. When it was time to grill, I made the kabobs then, so everything had a distinct taste (like no marinading the vegetables, but having them freshly cut prior to grilling).
I used one 8 oz can of pineapple chunks, and cut up one red bellpepper and one green bell pepper. I took my skewers and alternated my vegetables and meat. I'm not sure if it needed to be a certain way, but I did the following in order twice for one skewer: pineapple, mushroom, red pepper, chicken, and then green pepper. Again, one skewer took two of each ingredient.
After I made as many as I could (until I ran out of vegetables, cause I still had meat and mushrooms left), I placed them on the grill and checked them every 5 minutes, while basting with butter every time I flipped them. I took one off once it appeared they were cooked to check the center. After I took one off the first time, it looked great and after I tasted it, I was very pleased! So I took them all off. Some of them were more charbroiled than others, but again, I think it was due to my grill being hotter on one section than the other.
http://www.cooks.com/rec/doc/0,1739,154189-240192,00.html
Shrimp Kabobs
The shrimp kabobs were equally easy, and used almost the same ingredients from the chicken marinade. I admit, the chicken marinade asked for oil, but I loved how the sesame oil smelled and tasted so I used it for the chicken as well. Below are the ingredients for the shrimp marinade:
Juice from one 8 oz can of pineapple juice
2 tablespoons of sesame oil
2 tablespoons of soy sauce
1/4 teaspoon of pepper (I used black, recipe called for white)
1/8 teaspoon of garlic powder
1/8 teaspoon of ground ginger
I took one pound of deveined and peeled shrimp, and placed them in the marinade and in the fridge. When it was time for me to make the kabobs, I did the same thing with the chicken, and cut up all my vegetables then. I did in the following order twice for each skewer: onion, pineapple, tomato and shrimp. I was supposed to use cherry tomatoes, but I couldn't find them at my local grocer, so I used, what I thought was the next best/similiar thing. They didn't do as well as I think cherry would've done; once heated up, they became very delicate, so as I was taking them off the grill, they were sliding off the skewer, so I had to take care to make sure they were still intact. I did the same thing as I did with the chicken, and basted them with butter ever time I turned them. They did not take as long as the chicken, so make sure to watch them more closely.
http://www.cooks.com/rec/doc/0,1745,154174-234204,00.html
For side dishes, I made baked potatoes (with cheese, sour cream, butter and bacon bits for topping options) for me and my husband, and fries for my son. I wasn't sure what side goes well with kabobs, but overall, the combination tasted really good. Below is my son's plate, minus the skewers (for obvious reasons...he's four, lol-they would've become swords).
Yes, that's a small bowl of barbecue sauce in the middle because at age four, he's into dipping everything! He enjoyed it, and he even dipped and ate the vegetables. The mushrooms didn't make it on his plate, because I ate them (YUMMY) and the pineapples, he ate while I was making his plate. But you get the point.
Next time I make them, I probably won't do anything different other than use the correct tomatoes, and maybe control the temperature on my grill better so they can look better. But overall, the taste was delicious, and I love the marinade. I think it would be a good idea to use that marinade, even if I wasn't making kabobs for grilling!