For Valentine's day, I had a nice spread designed to wow my husband, and because of the rain, my plans slowly got crushedL. However, in the spirit of my new found venture in learning how to cook, I decided to make my meal, but just do it to the best of my ability. My menu was the following:
· Black Pepper & Onion marinated Ribeye
· Loaded Baked Potato
· Shrimp Kabobs
· Chicken Kabobs & Fries (for my son)
· Chocolate Covered Strawberries

Saturday morning, I began making my chocolate covered strawberries. I knew they needed to chill for a bit, and I was going to cover them with chocolate, and then drizzle white chocolate on top, which meant it needed to be a two step process. I'm assuming that is. So first, I grabbed some semi-sweet chocolate chips, some Crisco shortening, wax paper, and some large, long-stemmed strawberries.
First: Preparing my double broiler
I made a double broiler, using a large pot for my water, and a smaller glass dish to place on top, which would sit on top, but not be submerged in the water. From my research, you do not want the water to mix with the chocolate. So I started to heat the water, though I wasn't too concerned about the temperature, because I knew I wasn't cooking anything in it, so it shouldn't matter.
Step Two: Wash my gorgeous strawberries
As you can tell, I got the really plump, bright red strawberries with alot of green foliage, and long thick stems. I think this is an option. They were more expensive than the other strawberries, but I invisioned they would look better overall than the smaller ones. Below is an upclose of one of these gorgeous strawberries.
Step Three: Prepare the chocolate
Once I got my water boiling, I added some chocolate chips and some shortening. To be honest, I didn't measure out, I just put some in until it looked like it would make enough chocolate. I had 15 strawberries that needed to be covered, and they were big. It seems the shortening was used to make the chocolate smooth, so as long as some is added, I don't think it matters how much.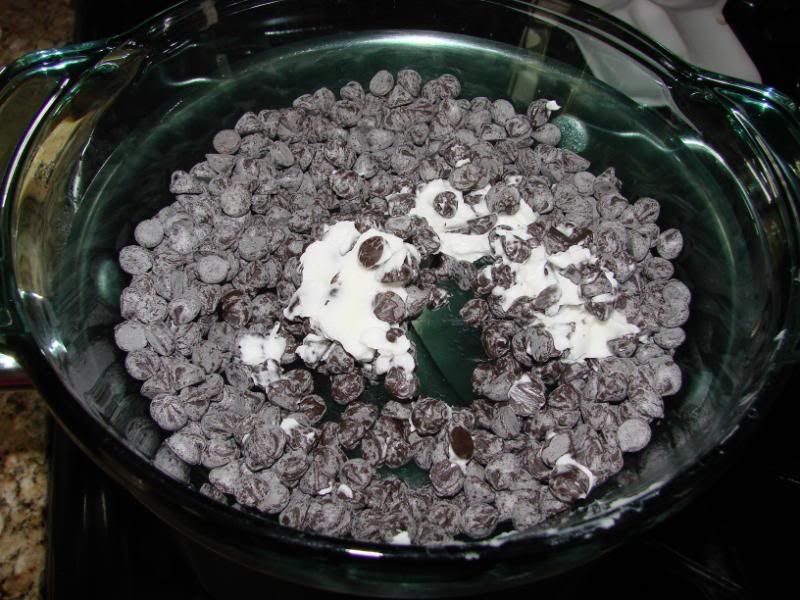 Below are the different stages for the chocolate melting:
Be careful to stir it the entire time! It made the chocolate smoother when I kept stirring it, so it could melt evenly.
Step Four: Submerging the strawberries :P
I took each strawberry, and dipped it in the chocolate and rotated it until the chocolate was evenly coated. I did this immediately after I took it off the stove, so the chocolate was still completely melted.
I then placed each strawberry on a cookie sheet covered with wax paper. I tried to make them evenly spaced out so they would chill together and make one big strawberry, lol.
Finished product before chilling:
So then I went a little chocolate happy, lol, and started looking for other things to cover in chocolate. I found some bananas, and sliced them, and submerged them in chocolate also:
I placed them alongside the strawberries as best I could, and then threw it in the fridge in my long drawer and put it on the colder selection.
Seems pretty easy! I was impressed with myself, and even though they look lumpy now, they came out smooth once chilled.
Step Five: Remove from fridge, and prepare to eat
The only thing I was concerned with was the aesthetics of the strawberries. When they cooled, the chocolate that had laid alongside the strawberries also hardened, so it wasn't as perfect as I hoped. The real test would be the taste.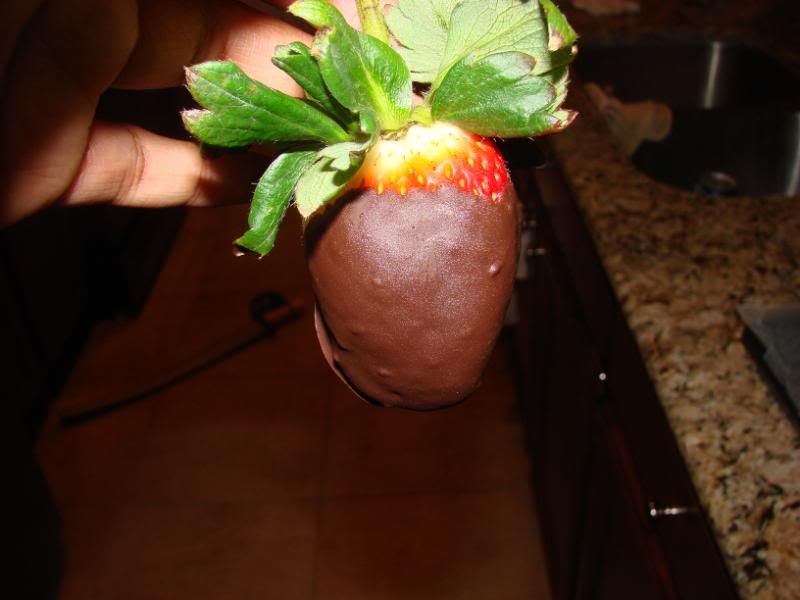 They were really good! The chocolate was smooth, and the different textures and tastes really was a good combination. I've only had chocolate covered strawberries (like this) only one other time in my life, and even though those were way better (they were made from Godiva chocolate, they can't help but be way better), these came out very good. My next thought was to drizzle white chocolate on them, but I never got around to it because I ran out of time. My next time I experiment, I'm going to definitely put the white chocolate on there also.
So try it at home! I want to experiment with the different ways you can cover a strawberry. Maybe add nuts one time, do just white chocolate, or, my biggest idea, take a favorite candy bar of mine, melt it and cover it on a strawberry. Look for future blogs regarding that!