My family is crazy about lasagna. My son can stuff forkfuls after forkfuls in his mouth, while my husband dances a chair jigg. And that's just with the Stouffers frozen lasagna in the frozen food section at the grocery store. So, for the sake of my family's love for lasagna, I decided to try to make my own.
I got the idea from watching Food Network's tv chef Paula Deen. Everytime I watch one of her shows, she makes the recipes look easy and yummy, and I'd been wanting to try to do a lasagna for some time. On this particular episode, she also made roasted garlic bread, which I had planned on doing to compliment my meal, but I totally underestimated the amount of time it would take to make this lasagna. So, if you decide to try at home, and you want your dinner on the table by a certain time, I suggest giving yourself three hours to prepare it. OR, it just took me longer cause I didn't know what I was doing, and I had to deal with kids, lol.
First, I got all my ingredients together:
1 1/2 pounds ground chuck
1 pound ground Italian sausage
1 onion
2 cloves garlic, minced (I used 3 cause I love garlic)
2 teaspoons ground oregano
1 teaspoon ground basil
1/4 teaspoon salt
1/4 teaspoon pepper
1 (14.5-ounce) can diced tomatoes with basil, garlic, and oregano
2 (15-ounce) cans tomato sauce
1 (6-ounce) can tomato paste
1 1/2 cups small curd cottage cheese
1 (5-ounce) package grated Parmigianno-Reggiano
2 tablespoons freshly chopped parsley leaves
2 large eggs, lightly beaten
9 oven-ready lasagna noodles
2 (8-ounce) packages shredded mozzarella
Above are the ingredients off the website, but I modified it slightly by using three cloves of garlic, cause I love garlic (I doubt one extra one made a big difference), and I used dried parsley leaves, only because I couldn't find any at the store. And as a note : the Parmigianno-Reggiano was very difficult to find at my grocery store, but after looking around for some time, I found it next to the cheese department. It's an expensive cheese; it costs $19.99 per lb. Thank goodness I didn't need that much!
So back to the meal preparation. First I took my ground chuck, italian sausage, onion and garlic and placed it in a large pot.
I cooked it until it was completely done and crumbly, make sure you stay close and stir it alot so it can cook evenly:
At this point, it smelled so good, my dog was circling the entire kitchen, I'm assuming, hoping for some to fall on the floor. Afterwards, I drained the oil using a collander.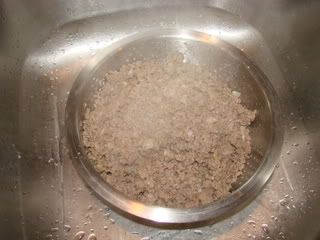 Afterwards, I put it back on the stove, and added the oregano, basil, salt and pepper and all the tomato mixtures.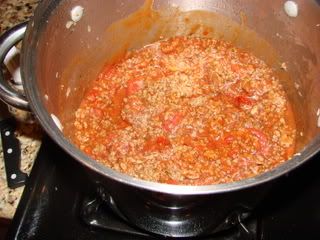 I returned it to boiling and then lowered the temperature and covered so it could simmer. Recipe says cook it for 30-45 minutes, but I did it for about 40 minutes. In the meanwhile, I prepared my cheese mixture. I took the eggs, cottage cheese, parmigianno-reggiano and parsley, and mixed it in the bowl.
I placed it in the fridge and got Alyssa before she thought I had lost my mind for leaving her unattended for so long :)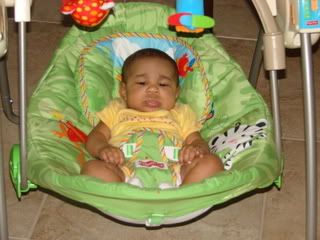 See that mean look on her face? Mom, it's taking you too long!
After my sauce had done cooking down, I noticed the liquid reduced and thickened up: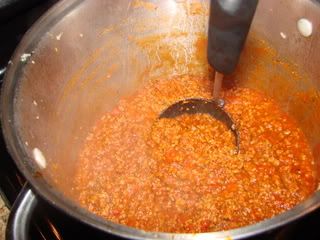 I couldn't help but taste it at this point, it tasted so good, and I realized that it would make a good spaghetti sauce! So if you run out of time, you could probably stop right here, and make some noodles and you have a pretty good meal!
Next, I started layering my lasagna. This part got tricky to me. I'm very much a measure by measure person, and for me, I want to know how many tablespoons, cups, etc. I need. And this recipe did not give me this at all, so I'm not completely sure if I did the layering correctly. I did some of the sauce meat mixture on the bottom, and then placed three oven ready lasagna noodles on top.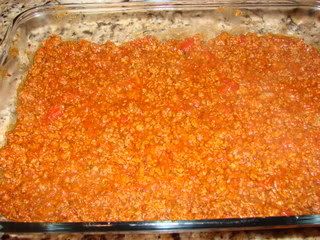 The oven ready noodles are very delicate, so take care when you take them out the package. I broke one just taking it out the plastic. After those two layers, I put my cottage cheese mixture on top, more meat sauce, and some mozzarella cheese.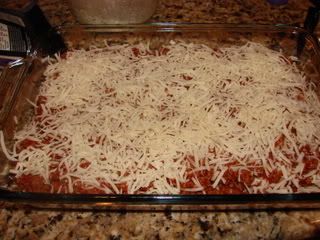 I repeated by putting three more noodles, cottage cheese mixture, meat sauce and mozzarella cheese. My last layer included three more noodles, cottage cheese mixture and then I stopped at the meat sauce. I placed it in the oven at 350 degrees for 45 minutes. After the time is up, I placed the remaining mozzarella cheese on top and placed it back in for another 15 minutes: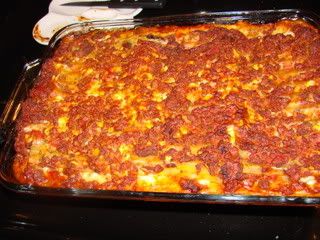 Before cheese
After cheese and 15 minutes
Another view: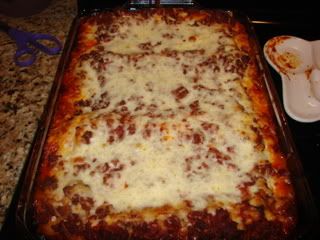 So it looks good, and boy did it taste good! The only thing I was concerned about was it had a slight sweet taste to it, but it was a crowd pleaser for everyone. I wish I would've had time to fix the garlic bread to go with it, but I will try it tomorrow for the leftovers. Instead, I made toast and caesar salad to go alongside it.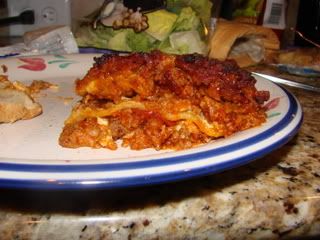 Overall, I was pleased with this recipe. Of course, on the show, Paula made it look so easy and quick, but it did take me some time to do it, but it may have been because I was juggling both kids and taking phone calls while doing it. Next time, I'm hoping to be a little more organized, and find my fresh parsley and make sure to evenly spread my mixture for my layers, because I do feel it was loopsided.
Side Note: If you haven't seen the special noodles for this recipe, this is what they look like: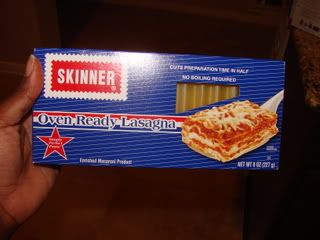 http://www.foodnetwork.com/recipes/paula-deen/lots-omeat-lasagna-recipe/index.html